Los Angeles Business Portal
Serving small business owners in a diverse, entrepreneurial city.
Overview
Contribution
UX Designer / Researcher
Team
Los Angeles Bloomberg Innovation Team (iTeam)
CivicActions
Gaby Brink – Creative Director
Nathalie Destandau – Lead Strategist
Kirill Mazin – Lead Designer
A diverse and colorful city bursting with entrepreneurship, the City of Los Angeles was looking for a better way to serve their small business owners. The Los Angeles Business Portal was a responsive website created by Tomorrow Partners to help entrepreneurs get their businesses up and running, grow, and stay compliant with government regulations.
The completed business portal's backend was made open source and is available for any cities or states looking for a business portal of their own.
Government is difficult to navigate.
For small business owners staying compliant with city, county, state, and federal government agencies is a hassle. It's not always clear where to begin, who to speak to, or how to submit paperwork.
The city had unique challenges including:
A large and diverse immigrant population speaking Spanish, Chinese, Vietnamese, Korean, etc.
A spread out city without quick or reliable public transportation at the time, making it difficult to reach City Hall
Parking and traffic issues, making it difficult to reach City Hall by car
Unclear city boundaries
A high level of neighborhood displacement
By creating the Business Portal, we sought to modernize and bring transparency to the process of starting and growing a business and, in doing so, even the playing ground across all entrepreneurs.
We interviewed small business owners and co-created journey maps using cards. The business owners came from a variety of business types. Some were newer to entrepreneurship and others were well-seasoned business owners. Together, we were able to get a good sense of what it was like to start, maintain, and grow a business in a city like Los Angeles.
Los Angeles business owners were clear on what they wanted and where the challenges were. The idea of a guide or roadmap came up multiple times throughout the research from many different stakeholders. The City was an ally for small business owners, and that wasn't always understood.
There was also a lot of discussion around helpful content. Key components of the Business Portal that we identified during the research phase included:
Startup Guide
Starter Kits for various types of common businesses
Resources to Los Angeles Business Source Centers
Links to the websites of all relevant City Departments
Terms and Definitions often used by the City
We also conducted interviews with a variety of government departments at the City of Los Angeles and discussed the silos that left small business owners feeling confused or frustrated. They provided key expertise on the content of the website. In a large workshop with all the related departments meeting face to face, stakeholders were able to get a clear picture of what it really took for small business owners to navigate through the ups and downs of starting a business.
Based on the research, we created user modes to help direct the navigation and content of the site. The website needed to function as an efficient resource for highly independent and experienced users, as well as be accessible for the users who were completely new.
"Different layers of information would be helpful. Like, "Here's the basic thing," and then you can go deeper to learn more. It's just a ton of stuff right now. Give me a clear starting point with additional information supplementing those things."
–– Current Business Owner
Startup Guide
The Tomorrow Partners design team started working with the LA iTeam to create a guide that would give entrepreneurs a place to begin. It was clear that content was fairly nuanced and complicated and that the user didn't have to be exposed to all of that. We did the thinking so that the end user didn't have to.
We created wireframes and began testing the Startup Guide by creating InVision prototypes and getting it into the hands of business owners. The team recorded sessions were using Validately and studied the tests to improve user experience and content.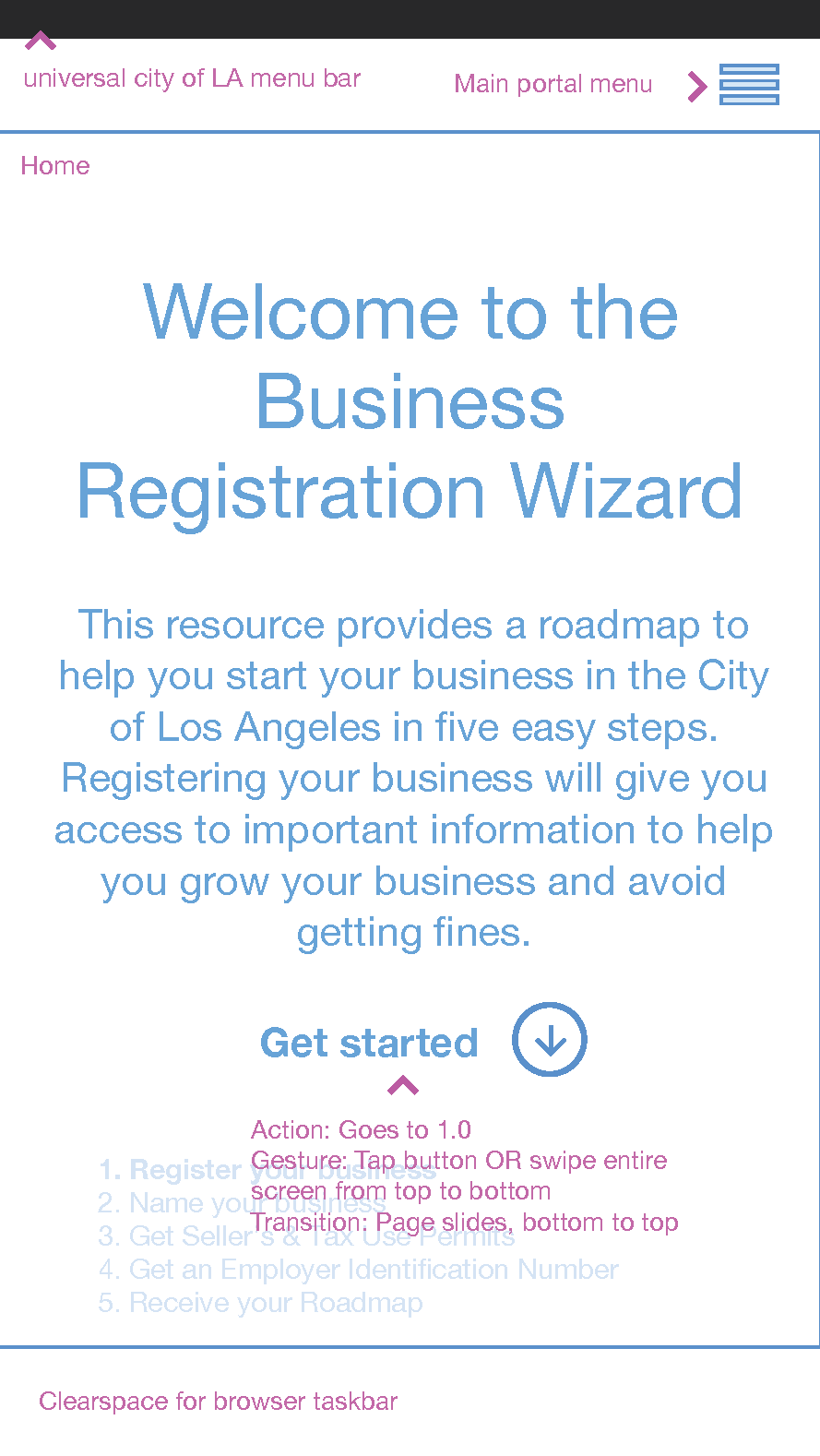 Tomorrow Partners and CivicActions designed and built the website on Drupal using modular design that would be easy to maintain. We created guidelines for the content of the site to be written in simple, everyday language so that Google Translate could provide a rough translation across various languages.
We also created created editorial training, tools, and design guides for the City of Los Angeles to continue updating, growing, and improving their Business Portal so that it would be a living resource. It was launched in 2016 and continues to serve small business owners today.